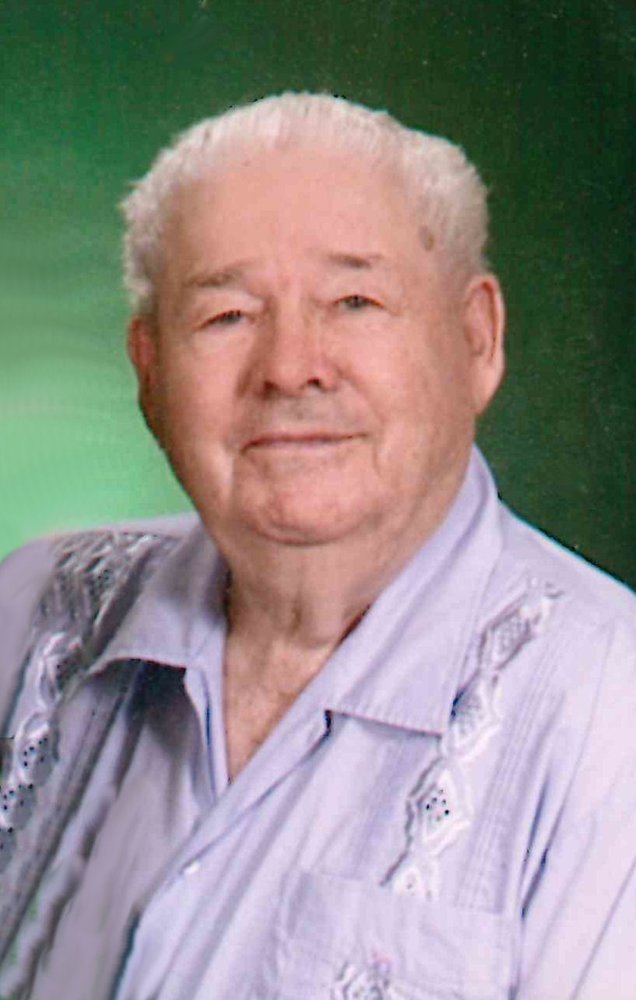 Share Your Memory of
Robert
Obituary of Robert Pritchard
Robert "Bob" Pritchard, 97, the son of Virgil Mearl and Daisy Frances (Porter) Pritchard, was born July 17, 1922, in Valley Junction, Iowa. Moving to Newton with his family in 1936, he was a graduate of the Newton Senior High, Class of 1940. He served his country with the US Army, during World War II, as a Chaplain Assistant.
On May 16, 1942, Bob was united in marriage with Mary Munoz. He was employed by the Rock Island Railroad, retiring as a switchman in 1960, after 34 years of service. He was a member of the Newton American Legion #111, the Newton V.F.W. #1655, Sacred Heart Catholic Church and the Grinnell Coin Club. He enjoyed square dancing, taking his kids hunting, and golfing, playing semi pro football in Des Moines and Newton, and collecting coins and railroad memorabilia. Bob enjoyed being with family, especially his grandchildren. He will be remembered for his passion to live, his honesty, and his generous heart of helping others who ask of him.
Bob is survived by his wife Mary of 77 plus years; his children: Anita (Richard) Bough, Michael (Linda) Pritchard, Lorie Pritchard (Randy Storbeck) and Monica (Jim) Skokan; his grandchildren: Brian Fox (Amanda), Paul Prewitt (Heidi), Connie Fox, Tiffany Bassett, Anthony Pritchard (Emily), Robert Skokan (Bailey), great-grandchildren: Jessica Kinkel-Schuster (Jeff), Shelby Fox, Maria Penton (Blake), Ben Fox, Aleisha, Keira, Marissa, Alex, Emilia, Gideon, Ivy, Peyton, Kinzlee, Caydence, and great-great-grandchildren: Bella, Charlie, Aiden, and one in the womb; a sister, Dorothy Dougherty and many nieces and nephews.
He was preceded in death by his parents; a sister Gloria Ucthman; and two brothers: Virgil and Bill Pritchard.
A Funeral Mass will be held Thursday, December 12th at 1:30 PM at Sacred Heart Catholic Church in Newton. Friends may greet the family at the Sacred Heart Catholic Church from 12 noon until 1 pm. A public rosary service will begin at 1 with the funeral mass to follow. Memorials may be designated to the Iowa Veteran's Home, St. Jude Children's Hospital or the donor's choice and may be left at the church or at Pence~Reese Funeral Home.
To send flowers to the family or plant a tree in memory of Robert Pritchard, please visit Tribute Store