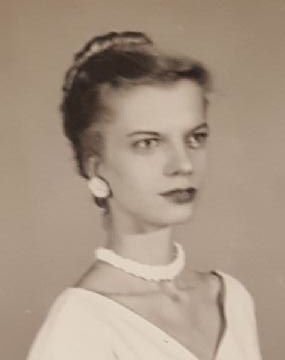 Obituary of Carol Jean Soderblom Proctor Hammer
Carol Jean Soderblom Hammer was born on January 27, 1929 in Newton, Iowa the only child to loving parents Mabel and John Soderblom, immigrants from Sweden. Carol attended Newton Public Schools graduating in 1947. After earning a Master's degree in music education and piano performance and pedagogy, she taught in public schools, including six years in Newton in the 1960's, during which time she played violin with the Central College Orchestra and substituted in the orchestra at Iowa State University in Ames, Iowa. Beginning in 1968 she did further graduate work in piano pedagogy at Columbia University in New York City, and taught piano at the renowned Harlem School of the Arts.
In 1970 she returned to Iowa and started a classic piano program in the Des Moines Public Schools. From there she went to the University of Iowa and earned a PhD in Music and Music Education. It was while working on her doctorate at U of I that she met her future husband, Carroll Proctor, who was working on his Doctorate in Musicology. Both Carol and Carroll taught in the music department at Simpson College in Indianola, Iowa until their retirement. They were married in 1994 and upon retirement in 1995 moved to Newton Iowa, living in the family home built by Carol's father. There they opened a piano and voice studio, mentoring and teaching students from ages 5 to 85.
Carol was involved in the Des Moines Metro Opera, PEO, Newton Book Club, First Presbyterian Church, Newton Concert Association, and coordinated and supported several cultural events in the Newton community. She was an avid reader with an extensive collection of books that covered a wide range of topics including the arts and classic literature. Carol was an accomplished seamstress and needle-worker and was always elegantly styled in classic fashion. She was a gracious and creative hostess and loved sharing her beautiful home and garden with friends, often joyfully weaving music and performance into a gathering.
After Dr. Proctor's passing in 2010, Carol was delighted to reconnect with childhood friend David Hammer. Carol and David grew up in Newton and attended Kindergarten through High School together. They were married August 12, 2013 on the RMS Queen Mary II in a ceremony performed by the Captain of the ship. They honeymooned in Europe and lived in Dubuque, Iowa for 4 years before returning to Newton.
Carol was a loving and attentive wife; she was generous with her friendship, wisdom, and talent and brought grace, elegance, and beauty to the world. She will be missed and is lovingly remembered by countless students and friends. She is preceded in death by both Carroll Proctor and David Hammer. She is survived by two step-children, Julie Hammer and David Hammer and 3 step-grandchildren.
A service of music and celebration will be held at 11:00 a.m. Saturday, January 12, 2019 at the First Presbyterian Church in Newton. Rev. Meghan Davis will be officiating. A time of visitation will be immediately following the service, during lunch, from 12 – 2 pm, at the church. Interment will follow at Newton Union Cemetery. Memorials may be designated to the Des Moines Metro Opera and may be left at the church or at Pence ~ Reese Funeral Home.