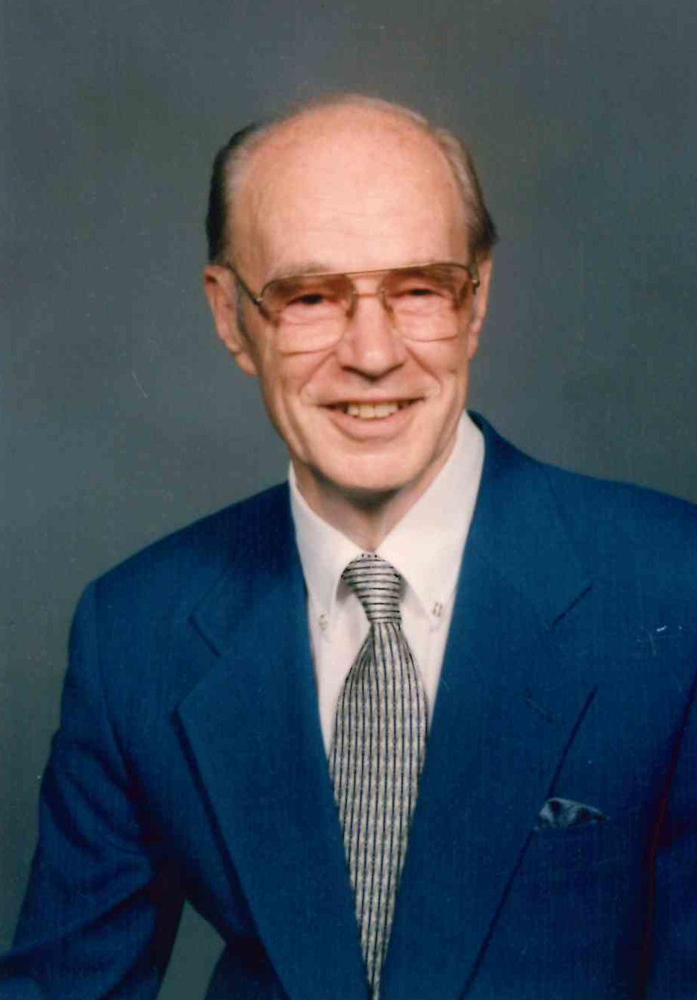 Obituary of Leo Harrington
Leo C. Harrington, the son of Leo Clifford and Gertrude Lucille (Combs) Harrington, was born November 3, 1919 in Mount Ayr, Iowa. He graduated from Newton Senior High School in 1938.
On June 5, 1942, Leo was united in marriage with Marcia Livingston in Newton, Iowa. From 1943 to 1946, during World War II, he served his country in the United States Army. Leo had worked for the U.S Postal Service starting in 1940, then upon his return from the war, until 1948. In 1951 he graduated from Simpson College and went to work for the Maytag Company where he held the positions of senior buyer and then purchasing agent. He retired in 1984.
Leo loved his family. Nothing gave him more pleasure than family gatherings with his family around him. He also enjoyed the outdoors, particularly hiking in Colorado and Wyoming. One of his favorite places was Rocky Mountain National Park where, over the years, he hiked many of the trails, including the challenging hike to Long's Peak, one of Colorado's fourteen thousand foot peaks.
Leo was an active member of the United Presbyterian Church; a former chairman of Pack 354 Newton, Iowa Cub Scouts; and a 75 year member of the Newton Masonic Lodge A.F. & A.M. He was also active in the Jasper County Historical Society; had served on the RSVP board; was a Newton Chamber Ambassador; and was a lifetime member of the Maytag Management Club and the National Association of Purchasing Managers (CPM).
Leo died on Monday, November 13, 2017 at Park Centre Health Care. He was 98 years old, and was preceded in death by his parents, Clifford and Gertrude, and his brother, Charles.
Leo was loved and will be greatly missed by his wife of 75 years, Marcia; his sons, Charles Harrington (Jo Cox) and John (Cate) Harrington; his daughter, Marcia (Rich) Flaugh; his six grandchildren, Karen (Jim) Emmert, John (Jennifer) Flaugh, Rebecca (Eric) Morris, Joseph Harrington, Andrew (Alana) Harrington, and Ellen Harrington; ten great grandchildren; and many nieces and nephews.
Memorial services will be held at 11:00 a.m. Saturday, December 16, 2017 at the United Presbyterian Church. The family will greet friends following the service, at the church, during lunch. Memorials may be designated to the United Presbyterian Church or Park Centre Good Samaritan Fund and may be left at the church or at Pence ~ Reese Funeral Home.
Visitation at Funeral Home
11:30 am - 1:00 pm
Saturday, December 16, 2017
Pence ~ Reese Funeral Home & Cremation Services
310 N. 2nd Ave. E.
Newton, Iowa, United States
Memorial Service
11:00 am
Saturday, December 16, 2017
United Presbyterian Church
209 N. 2nd Avenue E.
Newton, Iowa, United States
Final Resting Place
Newton Union Cemetery
1600 - W. 4th Street N.
Newton, Iowa, United States