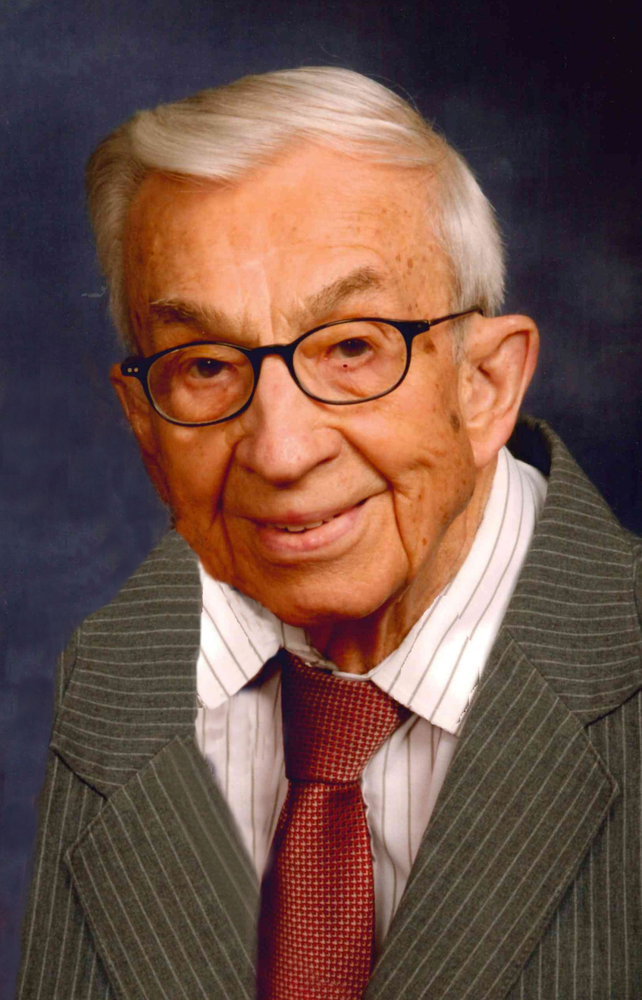 Obituary of Warren McFate
Warren John McFate, the son of Raymond Arthur and Nina (Talbot) McFate, was born September 22, 1920 in Manning, Iowa. While Warren was in grade school, his family moved to Arizona for a year. They relocated permanently to Ordway, a small town near Pueblo in southeastern Colorado. He graduated from the Ordway High School in 1938 and then attended Western Union College in Le Mars, IA where he graduated in 1947 with a BA in history. From there, he moved on to seminary at the Evangelical Theological Seminary in Naperville, IL, receiving his BD in 1948.
On June 6, 1943, Warren was united in marriage with Mildred Wendel in Meservey, IA. Following seminary, Warren entered the ministry and served for over 40 years in the Evangelical, Evangelical United Brethren and United Methodist denominations. He spent his entire career in the state of Iowa, serving churches in Viola, Ross, Des Moines, Hubbard, Council Bluffs, Burlington, Washington, Monroe, New Hampton, Lanesboro-Churdan and Audubon. Warren loved his family. He enjoyed camping and pulled a travel trailer on family vacations around the country, remaining active well into his 80s. He visited all of the 50 states except Alaska, but his favorite place to go was the Colorado mountains. Since his retirement, Warren has attended the First United Methodist Church in Newton, IA.
Warren died on Wednesday, September 20, 2017 at Park Centre of Newton. He was 96 years old. Warren was preceded in death by his parents.
Those left to honor Warrens memory include his wife of 74 years, Mildred McFate of Newton, IA; his son, Richard (Kathleen) McFate of Buffalo Grove, IL; his daughter, Marilyn (Anthony) Davis of Newton, IA; his brother, Norman McFate of Sun City, AZ; his grandchildren, Suzette Oldham of Newton, IA, Hope Oldham of Des Moines, IA, Ronnie A. Oldham of Knoxville, IA, Clifton (Suzanne) McFate of Chicago, IL; and his great grandchildren, Zachary Oldham, Nicholas Oldham, Mikayla Foster, Blake Foster, Riley Oldham, Ronald D. Oldham, Michael Dethrow, Ashley Dethrow, and Jared Dethrow.
Funeral services will be held at 2:00 p.m. Saturday, September 23, 2017 at the Pence ~ Reese Funeral Home in Newton. The family will greet friends from 1:00 until 2:00 p.m. Saturday at the funeral home. Memorials may be designated to the Wesley Woods Camp and Retreat Center 10896 Nixon St. Indianola, IA 50125 or may be left at the funeral home.