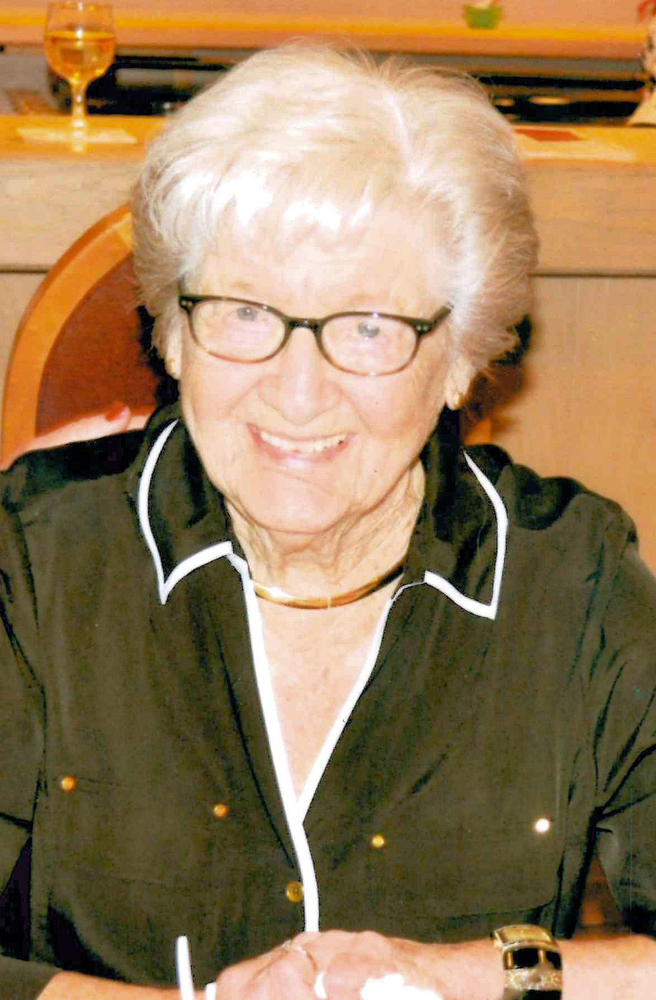 Share Your Memory of
Doris
Obituary of Doris Harlan
Doris Harlan was reared on a farm near the small town of Kellogg, Iowa. Her father was a farmer and cattle buyer and her mother, a schoolteacher. Interestingly, her grandparents, as newlyweds, left Pesta, Denmark in 1880 and settled at Kellogg, Iowa. Doris has one sister who lives in Cedar Falls, Iowa.
Doris graduated from Kellogg High School in 1938. She contends that the most important part of high school was playing what was then, three court girls' basketball.
After graduation, it was off to Des Moines where she attended Capital City Commercial College. It was there that she met her future husband, Edgar Harlan, a graduate of North High School.
After business school, Doris went to work for a small insurance company and Ed went on to Drake University. They did not let Pearl Harbor stop their January 1941 wedding plans. Ed then enlisted in the Air Force in February of 1942. Per Doris, from then on, her life was his life and she enjoyed every minute of it, moving, seeing the country and meeting new people.
The family grew to include two children: Nancy, born in 1944 at Bakersfield, California and little Ed, born in 1953 in Germany.
During their 17 years together, Ed and Doris lived in California, Arizona, New Mexico, Texas, Kansas, Florida and Georgia. They also had a three-year tour in Germany and two years in Korea from where they were evacuated just prior to the outbreak of the war there.
Edgar Harlan's last assignment was as an Air Force test pilot-Acceptance Division at Lockheed Aircraft Corporation in Marietta, Georgia. On February 17, 1959, at age 38, he was flying a B47 – God only knows the rest.
After Edgar's tragic death, Doris packed up their children, a dog and a pet bird and moved back to Iowa and lived in Windsor Heights from 1950 to 1975. When the children both left home, the wanderlust hit her again. She sold her home and everything in it except her pillow and coffee pot, packed her car and took off. After spending time with her daughter in Boise, Idaho and her son in Tarpon Springs, Florida, she rented in Phoenix, Arizona for about six months. After two years of wandering, Doris bought a home in Tarpon Springs, Florida, living there for eight years. The fact that Nancy and family moved back to Des Moines from Boise in 1985 prompted Doris to move back to her favorite place, Windsor Heights, Iowa. She lived there until her move to the Lodge of Ashworth in West Des Moines, where she resided from 2001 until 2017.
Doris died on Wednesday, May 8, 2019 at Arbor Springs in West Des Moines. She was 98 years old. Doris was preceded in death by her parents, Barney Joseph and Byrdie Bertha (Anderson) Stecher; her husband, Major E.R. Harlan, US Air Force; and her brother-in-law, Maynard Prashak.
Those left to honor Doris' memory include her, daughter, Nancy (Rick) Schaeperkoetter; her son, Ed (Sharon) Harlan; her grandchildren, Brian, Michele, Heather and Eddy; her great grandchildren, Sam, Merret, Harlan, Henry and R.J. and her sister, Darlene Prashak.
Funeral services will be held at 2:00 p.m. Tuesday, May 14th at the Pence ~ Reese Funeral Home in Newton. The family will greet friends from 1:00 p.m. until service time. Memorials may be designated to the Wounded Warrior Project or the Alzheimer's Association and may be left at the funeral home. The family would like to express their heartfelt gratitude to the caring staff of Arbor Springs and Suncrest Hospice for their tender care of Doris throughout this past year.
Visitation with the family
1:00 pm - 2:00 pm
Tuesday, May 14, 2019
Pence - Reese Funeral Home
310-N. 2 Ave.E.
Newton, Iowa, United States
Funeral Service
2:00 pm
Tuesday, May 14, 2019
Pence ~ Reese Funeral Home & Cremation Services
310 N. 2nd Ave. E.
Newton, Iowa, United States
Interment
3:00 pm - 3:15 pm
Tuesday, May 14, 2019
Our Silent City Cemetery
1926 Hwy 224 N.
Kellogg, Iowa, United States