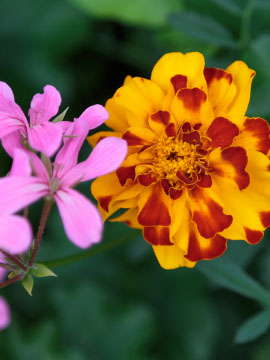 Obituary of Thelma Fortune
Thelma Lucille "Lucie" Barnes Fortune passed away peacefully at Skiff Medical Center in Newton on Wednesday, May 2, 2018.
Lucie was born to Fred and Daisy (Richmond) Barnes on April 8, 1928, in Lovilia, Iowa, the third of four children. After graduating from Newton High School in 1946, she met the love of her life, Donald Fortune, on a blind date arranged by her best friend and future sister-in-law. After a short courtship, they married in Knoxville, Iowa on August 22, 1946, and were blessed with four children; Sheron Kay, Jerry Dean, Terry Lee and Donald Paul Jr. They began raising their family in Knoxville then moved to Newton in 1963. Once their children were all in school, Lucie worked for the Newton schools in the lunch department, where she made many good friends.
Over the years, Lucie enjoyed many activities, especially camping and vacations, but also playing cards, country music, her morning coffee group at Midtown, embroidering and spending time with family and friends. She continued to live independently until recently, just prior to her 90th birthday.
Those left to honor her memory are children Sheree Church, Jerry (Sue) Fortune and Don (Gwen) Fortune all of Newton; seven grandchildren Todd (Lori) Church, Troy Church, Tami (Scott) Worley, Shaun (Julia) Fortune, Andrea (Alex) Jansen, Amanda (Ryan) Menninga and Thomas Fortune, eleven great grandchildren, four great-great-grandchildren and many special friends and extended family. She was preceded in death by her husband Don, who passed away just months before their 40th wedding anniversary, sister Wilma Henderson, brothers Homer "T-Bone" Barnes and Kenneth "Scoot" Barnes, son Terry Fortune, son-in-law Ted Church and special friend Leo Isley.
As per Lucie's wishes, there will be no memorial service, but the family welcomes you to join them in a celebration of life in her honor at the home of Jerry and Sue Fortune, 5806 E. 76th St. S. in Newton from 3:00 pm until 5:00 pm on Saturday, May 12th. Cards or remembrances can also be sent to the family at Pence-Reese Funeral Home at 310 N. 2nd Avenue E., P.O. Box 576, Newton Iowa 50208.
Pence~Reese Funeral Home in Newton, has been entrusted with the arrangements.