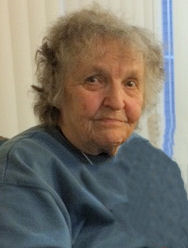 Obituary of Mary Ann Prins
Mary A. Prins
Mary went home to be with her Savior on Thursday morning, March 29, 2018, at Mayo Hospital & Clinics in Mankato, MN.
Mary Ann Prins, 84, was born October 11, 1933, near Watertown, S. Dakota. The daughter of William Henry and Mildred (Widman) Heidecker, she was a high school graduate, and attended North Western Teachers College in the Twin Cities.
On July 26, 1953, Mary was united in marriage with Russell James Prins, at her parent's home near Montevideo, MN. To this union six children were born: Marilyn, Rose, Carolyn, David, Cindy and Julie. She taught public school for several years, and was a dietician/cook at several restaurants and health care centers in the Amboy/Blue Earth, MN areas. Mary was a loving wife, mother, grandma and great great-grandma, she will be greatly missed by those who knew and loved her. She enjoyed her family, was a hard worker, and enjoyed cooking, gardening and reading. She and Russ were members of the Clover Community Church near Hinckley and also attended the Grace Baptist Church in Mankato.
Mary is survived by her children: Marilyn (Gene) Groeneveld of Newton, IA, Carolyn (Marvin) Nelson of Truman, MN, David (Belva) Prins of Waseca, MN, Cindy (Darrell) Friar of Winnebago, MN and Julie (Steve) Nelson of Hinckley, MN; a son-in-law Don (Deb) Domeier of Sleepy Eye, MN; brother John (Delores) Heidecker; sisters: May Felty Evarts and Nellie (Chuck) Martin; her nineteen grandchildren and many great-grandchildren; a sister-in-law Viola (Marlin) Kruger; and her many good neighbors and friends
She was preceded in death by her parents, her husband Russell on March 14, 2017; her daughter Rose Ann Domeier on Jan. 19, 2004; her grandson Leland Nelson on Aug. 9, 1995, her brothers: Robert "Bob" and William "Bill" Heidecker and her sister Annie Angrimson.
A time of remembrance and celebration of life will be 1:00 p.m., Thursday, April 5, 2018, with a visitation time one hour prior to the services, at Grace Baptist Church in Mankato, with a lunch and fellowship time to follow. Burial will be in Clover Community Cemetery, near Hinckley, 11:00 a.m., Friday, April 6, 2018, with a lunch and fellowship time to follow at the Clover Community Church. In lieu of flowers, and as an expression of sympathy, memorials may be designated to Mary's name to her family or a charity of your choosing.
The Pence ~ Reese Funeral Home in Newton, IA have been entrusted with the arrangements.