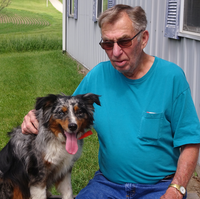 Byron Eugene Damman
Byron E. Damman, 82, son of August E. and Dorothy E. (Eibs) Damman, was born August 2, 1940, in Marshalltown, Iowa. He was a graduate of the Newton, Iowa Senior High School.
On August 30, 1958, Byron was united in marriage to Brenda Lou Newberry, at the St. Johns Church in rural Newton. He was the owner and operator of Damman Ditching Company. He enjoyed auto racing, Street Rods, hunting and the outdoors, and tinkering around his workshop.
Byron died Monday morning, April 3, 2023, at his home, near Newton. He was preceded in death by his parents.
A visitation with the family and celebration of life will be 1:00 p.m., Monday, April 10, 2023, with a visitation from 11 a.m. until 1 p.m., prior, held at the Pence ~ Reese Funeral Home and Cremation Services in Newton. Burial will be in the St. Johns Cemetery, at a later date.
Those left to honor Byron's memory include his children: Toni Werden, Todd (Debra) Damman, Tricia (Dan) Marshall and Timothy William Damman; his five grandchildren and seven great-grandchildren (with one on the way); his brothers: Gary, Denny and David; his puppy Sadie; and his many extended family and friends.