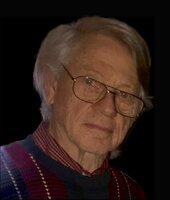 Roger Dean Harmelink
Roger D. Harmelink, 86, passed away quietly on Sunday, March 12, 2023 at Park Centre, Newton, Iowa.
Roger grew up on the family farm in northwest Iowa. He enjoyed school athletics and outdoor activities. Following his graduation from Central College in Pella, Iowa, Roger's first professional job was as a junior high math teacher in Newton. When Maytag offered scholarships to local teachers, Roger applied and was given the chance to return to school. He took night classes at Drake University, where he was finally able to take the accounting classes which had been unavailable to him at Central. Upon graduation, Roger was hired by McGladery and Pullen Accounting firm. After working in Barrington, Illinois, the family moved to Iowa. Roger worked in the Quad Cities office for the majority of his career, where his specialty was government accounting and auditing. He went on to become a partner in the firm and stayed with the firm until he retired.
When not crunching numbers, Roger enjoyed keeping busy. He was an exceptional handyman and carpenter and frequently donated his time and skills to friends, to his church, and to various Kiwanis projects. When he wasn't working on odd projects, Roger usually could be found playing racquetball or golf, driving around in his jeep, solving crossword puzzles and Sudoku, playing bridge, or donating blood and plasma (which he did by the gallons).
Roger is survived by Harriet, his wife of 65 years, and their three children David (Stephanie), Ann (Ian) Ashford, and Kathy (Curtis Briggs); grandchildren, Emily and Bailey, McKenna, Ethan and Ryan, and Matthew, Jennifer, and Joshua.
Following the service, the family invites everyone to stay for refreshments and fellowship. The family will share their final goodbyes in July when Roger's ashes will be buried in a rural cemetery near the small town of Maurice, Iowa, where he grew up and went to school. In lieu of flowers, memorial contributions may be made to Special Olympics, St. Jude's Hospital, or a charity of choice.