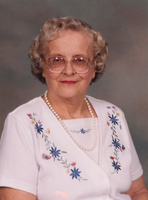 Martha M. Anderson
Martha M. Anderson, the daughter of John and Mary (Machacek) Starits, was born July 8, 1932, at her home in Vining, Iowa. Following her father's passing, her family moved to Tama, Iowa. On October 9, 1950, Martha was united in marriage with Robert "Bob" Anderson in Newton, Iowa. They made Newton their home to raise their family and for the remainder of their lives. They were members of Sacred Heart Catholic Church. After Bob's retirement, they worked together providing cleaning services for the Newton Clinic until they retired. Martha and Bob enjoyed taking their family on annual trips and to the Iowa State Fair. Later, they enjoyed playing BINGO and going on bus trips to riverboats on the Mississippi river and to local casinos. After Bob's passing, Martha continued these interests for several years. She also enjoyed watching her favorite TV shows and movies, listening to Polka music, working crossword puzzles, and had a great appreciation for her Czech heritage. Her favorite treats included ice cream, licorice, puff-corn and Werther's candy, which she was always willing to share. Martha will long be remembered for the love she had for her family and her many specialties including her pineapple fluff.
Martha died on Sunday, March 19, 2023, at Park Centre in Newton, Iowa. She was 90 years old. Martha was preceded in death by her parents; her husband, Bob, in 1998; a son, John, in 2004; a grandson, Ryan Klingensmith in 2016; a grandson, Josh Miller in 2022; her siblings; and many friends and family.
Those left to honor Martha's memory are her beloved children, Bob (Arlene) Anderson of Cedar Rapids, IA, Cindy Altemeier of Newton, IA, Lori (Denny) Klingensmith of Newton, IA, Lynn (Steve) Miller of Newton, IA, Kerri (Rusty) Deppe of Kellogg, IA, Mark (Roxie) Anderson of Newton, IA, and Drew Anderson of Newton, IA; a daughter-in-law, Barb (Mrs. John) Anderson of Chicago; her 14 grandchildren; her 19 great grandchildren; her two great-great grandchildren and many more treasured family and friends.
A Funeral Mass will be held at 11:00 a.m., Saturday, March 25, 2023, at Sacred Heart Catholic Church. A visitation with the family will be held from 10:00 a.m. until service time Saturday, at the church. Memorials may be left in Martha's name (Please make checks payable to Lynn Miller), and may be left at the church or at Pence ~ Reese Funeral Home.
The family would like to thank the Park Centre and Wesley Life staff, Father Tony Herold and all those who cared for and showed their love towards Martha.