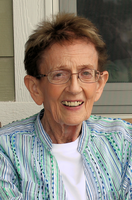 Judith Ann Brodersen
Judy passed from this life on Saturday, June 11, 2022, at Park Centre, Newton, Iowa.
Funeral services will be at Monroe Presbyterian Church on July 9 at 3 p.m. A celebration of life will follow at Gateway Recreation. The service will be live-streamed via the Monroe Presbyterian Church Facebook page and recorded for later viewing. In lieu of flowers, memorials may be designated to Monroe Public Library, Monroe Presbyterian Church, or Gateway Recreation.
Judith Ann Jones, 82, the daughter of David Kenneth and Mina Kennedy Jones, was born February 21, 1940, in Newton. She was a graduate of the Newton High School, Class of 1958.
Judy was married to Wilbur "Dean" Brodersen from 1958 to 1982. They raised four children, Brett, Lisa, Dana, and Doug. The family owned and operated Brodersen Oil Company, Casey's General Store, and Monroe Travel Center. Judy spent the last 39 years with her "rock," Lehrl "Papa Van" Van Dalen. She was devoted to her family and enjoyed time at Gateway, yearly trips to Las Vegas, and porch time on Coneflower Ct. She was a member of the Monroe Presbyterian Church and multiple community groups.
Judy was preceded in death by her parents, daughter Dana, and son Brett. She is survived by Lehrl, daughter Lisa Brodersen (Kirby Baumgard), son Doug Brodersen (Jody Van Veen), nine grandchildren, five great-grandchildren, sister Linda Schrader (Mike), brother Evan Jones (Marie), two nieces, two nephews, and many good neighbors and friends.