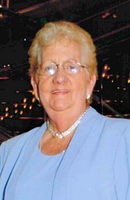 Marjorie J. Herbrandt
Marjorie J. Herbrandt
Newton
Marjorie J. Herbrandt, 87, the daughter of Jesse Paten and Ola Okle (Collins) Morris, was born April 13, 1935, in Newton. She was a graduate of the Newton Senior High School, Class of 1954.
Funeral services for Marjorie will be 1:30 p.m., Friday, June 17, 2022, at the Pence ~ Reese Funeral Home in Newton, with a visitation at 11:30 a.m. until 1:15 p.m. at the funeral home. In lieu of flowers, memorials may be designated to the Newton Public Library in Marjorie's name. Burial will be in the Newton Union Cemetery.
On October 24, 1958, Marjorie was united in marriage with James J. Herbrandt in Newton. Over the years she was employed by the local phone company, the Des Moines Register, retiring as a clerk at the Newton Wal-Mart. She devoted her life to her family and friends.
Marjorie died Friday afternoon, June 10, 2022, at her home. She was preceded in death by her parents; her husband James on April 4, 1993; her sister and six brothers.
Those left to honor Marjorie's memory include her daughter Kathy (Donn) Alvis; her sons: Greg Herbrandt and Gary Herbrandt; several nieces and nephews; and her many extended family and friends