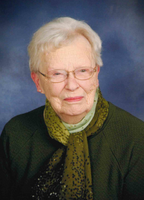 Greta J. Koppin
Greta J. Koppin, 91, of Newton, passed away Sunday morning, May 8, 2022, at Newton Health Care in Newton.
A Private Graveside service will be held. Pence ~ Reese Funeral Home in Newton, have been entrusted with the arrangements. In lieu of flowers, memorials may be designated to Greta's family for the Newton Fire Department, or to a charity of your choosing. Burial will be in the Newton Union Cemetery.
Greta, the daughter of Ross and Edna (Green) Miller was born July 6, 1930, in Newton. She grew up on a farm near Newton, and was a graduate of the Newton Senior High, Class of 1948.
On March 6, 1952, Greta was united in marriage with Leo Koppin in Newton. She worked various jobs until she retired as manager of the Maytag Loan and Abstract Company. Greta had a passion for reading. Anytime you stopped by to see her, she was deep into another novel. She enjoyed volunteering and being involved at the Sacred Heart Catholic Church. She was proud of her children, grandchildren, and great grandchildren.
Survivors include her son Jim (Lisa) Koppin; daughter, Jane Meckley; grandchildren, Andy(Laura) Meckley; Josh (Rachel) Meckley, Madison (Justin McManus) Koppin and Connor (Chelsea) Koppin; great-grandchildren; Kayden, Elliott, Cannon, Hudson and Claire, sister-in-law Darlene Koppin; many nieces and nephews; and her many extended family and friends
She was preceded in death by her husband Leo Koppin, sister Janilou Foster, brothers-in-law and sister-in-law, Pete and Pat Koppin and Gene Koppin.