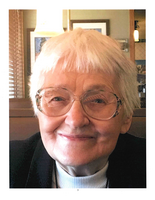 Joan P. Mattingly
Joan P. Mattingly, 90, of Newton, Iowa, passed away Thursday, May 5, 2022, at MercyOne Medical Center in Des Moines, Iowa.
The daughter of James and Pearl (Helms) Pollock, Joan was born July 14, 1931 in Ironton, Missouri. Joan was a graduate of Ironton Senior High School.
On August 30, 1949, Joan was united in marriage with William A. "Bill" Mattingly in Arcadia, Missouri. Prior to moving to Newton in 1965, they lived in Underwood, Corning, and Burlington, Iowa. For many years Joan and Bill owned and operated Mattingly Music and Book Store in Newton, sharing their love of books and music with their patrons. A woman of faith, Joan was a devoted and active member of Sacred Heart Catholic Church.
Joan is survived by her daughter, Barbara R. Mattingly, and sons: George E. (Lucy) Mattingly, Paul A. (Kelley) Mattingly, David J. (Cathy) Mattingly, John F. (Elaine) Mattingly, and Joseph B. (Norma Linda) Mattingly; her twelve grandchildren and great-grandchildren; her sisters: Nellie and husband Glen, Bonnie and husband Jim, her brother James and his wife Connie, her nieces and nephews; and many good neighbors and friends. Joan was preceded in death by her parents and her husband, Bill, on November 22, 2007.
Visitation will be held at Pence~Reese Funeral Home in Newton, Iowa, from 5:00 – 7:00 p.m., Tuesday, May 31, 2022, with a wake service following at 7 pm. A Mass of Christian Burial will be held at 10:30 a.m., Wednesday, June 1, 2022, at Sacred Heart Catholic Church in Newton. Burial will be at 11:00 a.m., Friday, June 3, 2022, in Arcadia Valley Memorial Park Cemetery, Arcadia, Missouri.
In lieu of flowers, those wishing to honor Joan's life are asked to leave a donation at Sacred Heart Catholic Church or at Pence-Reese Funeral Home; memorials will support the Sacred Heart Building Fund and the St. Labre Indian School in Ashland, Montana.
Online condolences may be left at: www.pencefh.com.