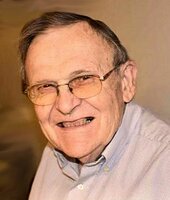 Lloyd LaVerne Nida
Lloyd LaVerne Nida, the son of Lloyd and Mary (Cly) Nida, was born July 11, 1931, in Dexter, Iowa. LaVerne graduated from Newton Senior High School with the class of 1949.
On February 14, 1953, LaVerne was united in marriage with JoAnn Hiatt. LaVerne installed floor coverings throughout Newton and Jasper and Poweshiek counties. He was known for his hard work, knowledge, and perfection. LaVerne and JoAnn enjoyed life together. Throughout the years they square danced, traveled in their motorhome, playing cards and spending time with family and friends at their lake house on Lake Ponderosa.
He was a member of the of the Newton Masonic Lodge, the Maid-Rite Coffee Club and was a charter member of the Holy Trinity Lutheran Church.
LaVerne died on Friday, April 22, 2022, at Newton Village Health Care Center in Newton. He was 90 years old. LaVerne was preceded in death by his parents; his son, Randy; and his brothers Edward and Robert.
Those left to honor LaVerne's memory include his wife JoAnn Nida; his sons David (Cheryl) Nida, Craig (Ann) Nida, Mark Nida (Carla Fichtenkort), Steven Nida (Jennifer); his twelve grandchildren and his eighteen great grandchildren.
Funeral services will be held 11:00 am, Wednesday, April 27, 2022, at Holy Trinity Lutheran Church in Newton. A Facebook Live broadcast will begin at 11:00 am, Wednesday, April 27, 2022, on the Pence Reese Funeral Home and Cremation Services Facebook page. A time of visitation with the family will be from 10:00 am until service time Wednesday at the church. Memorials may be given to Holy Trinity Lutheran Church or the Epilepsy Foundation and may be left at the church or at Pence Reese Funeral Home.