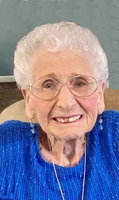 Margaret Lou Synhorst
Margaret Lou Synhorst, age 99, of Newton, passed away November 12th at Park Centre Skilled Care. The daughter of John and Mabel (Reed) McNeely; she was born August 10, 1922, in Muskogee, Oklahoma.
She graduated as salutatorian from Muskogee High School and then attended Business College in Tulsa, Oklahoma where she subsequently worked as the executive secretary to the Director of Human Resources at Mid Continent Oil Company (now Phillips Petroleum). Margaret was united in marriage to John P. Synhorst in Tulsa, Oklahoma on January 27, 1946. They moved to Newton where John went into business with his father at Newton Implement.
Margaret loved to play bridge and golf, dancing with John and she was an avid reader. She joined her first book club with PEO sisters at the age of 98 and took copious notes for their discussion. She loved traveling internationally and spending winters in Arizona with John. She was a great cook and baker and was renowned for her famous peanut brittle which she widely shared at the holidays. She and John enjoyed entertaining their many friends throughout their 66 years of marriage.
She was past president of Newton Junior Women's Club, Aurora Heights PTA and was an active volunteer at the Skiff Hospital Auxiliary. She loved her HS chapter PEO sisters and was a past president and active member of the chapter for over 50 years. She was a life member of Beta Sigma Phi sorority and an active member of First United Methodist Church, Newton.
Margaret was known to others as beautiful, inside and out. She was often described as gracious, kind, thoughtful and generous. She will be missed by her family and many friends.
Those left to cherish Margaret's memory are her daughters: Paula West, Nisswa, Minnesota; and Chris (Bob) Lewis, Des Moines, Iowa. Grandchildren: Matt (Kelly) Ripley, Chanhassen, Minnesota; Erin Krois, Duluth, Minnesota, and John Lewis (Olivia Truini), Chicago, Illinois. Great grandsons: Blake and Connor Ripley; Tyler and Jacob Krois. She has six nieces and nephews. She was preceded in death by her parents, husband John in 2012, sister-in-law and brother-in-law Fred and Betty Pittman, and sister-in-law and brother-in-law June and Roy Taylor.
The family extends its gratitude and appreciation to Dr. Paul Ruggle for his kind and attentive care of Margaret for many years and specifically during her recent years.
Margaret's Celebration of Life service will be held be 2:00pm, Saturday, January 22, 2022, at the First United Methodist Church in Newton. Visitation will be one hour prior to the services at the church. Burial will be in Newton Union Cemetery. Arrangements are with Pence-Reece Funeral Home in Newton. In lieu of flowers, the family requests memorials be made to First United Methodist Church (210 N. 2nd Ave. E., Newton, Iowa, 50208) or to the Good Samaritan Fund at Newton Park Centre (500 1st St. N, Newton, Iowa , 50208).