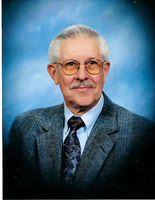 Lowell Dean Zimmermann
Lowell D. Zimmermann
Newton
Lowell died Monday afternoon, October 25, 2021, at the MercyOne Newton Medical Center in Newton.
Lowell Dean Zimmermann, 84, the son of Arnold and Laura (Jahnke) Zimmermann, was born April 21, 1937, in Bancroft, Nebraska. He was a Lyons,NE high school graduate, Class of 1955, he graduated from Wayne State, Nebraska Teacher's College in 1965, receiving his Master of Education Degree from Oregon State University.
On June 6, 1958, Lowell was united in marriage with Carole Newill at a United Methodist Church in Lyons, NE. Lowell taught public school for over 35 years, lastly in Newton, starting in 1970. He also coached girls' softball, taking the Newton girls softball team to state for the first time. He also coached girls track, volleyball and basketball, retiring in 1997. He devoted his life to his family, and enjoyed the outdoors, hunting, fishing, St. Louis and Newton Cardinals, the Nebraska Cornhuskers and his guns. He attended and was an active member of Our Savior Lutheran Church.
Funeral services for Lowell will be 1:00pm, Monday, November 1, 2021, at Our Savior Lutheran Church in Newton, with a visitation from 11:30am until 1pm at the church and during lunch immediately followinfg the service, during lunch. In lieu of flowers, memorials may be designated to Lowell's family to Mission Central, Newton Dollars for Scholars, Our Savior Lutheran, or to a charity of your choosing. Burial will be at a later date in the Lyons, Nebraska Cemetery. The Pence ~ Reese Funeral Home in Newton, overseeing the arrangements.
A Facebook Broadcast of the Memorial Funeral service for Lowell will be held 1pm, Monday, November 1, on the Pence ~ Reese Funeral Home and Cremation Services Facebook page.
Lowell was preceded in death by his parents; his sister Joyce and his brother Gary.
Those left to honor Lowell's memory include his wife Carole; his sons: Michael (Bernice) Zimmermann, their children: Asher and Nathan; and Chris (Kolleen) Zimmermann, their daughter Anna; and his many extended family and friends
{Due to state and federal guidance on gatherings, due to the COVID-19 pandemic, facemasks are optional, but encouraged at the services.}