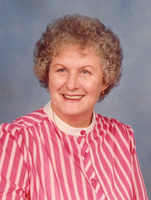 Dorothy Jean Probasco
Dorothy Jean Probasco, the daughter of James Kyle and Myra Jane (Baker) Allfree, was born February 8, 1928, in Newton, Iowa. She graduated from the Colfax Senior High School with the class of 1945, and went on to attend DMACC.
Dorothy worked in Occupational Education for the United States government. She retired in 1989. On March 17, 1989, Dorothy was united in marriage with Robert "Ike" Probasco in Cotter, Arkansas. Dorothy was a member of the Pleasantview United Methodist Church, the American Legion Ladies Auxiliary and was a Skiff Volunteer. Dorothy enjoyed quilting, reading mysteries, crafting, and dancing. She was always known as a loyal friend.
Dorothy died on Monday, October 25, 2021, at Iowa River Hospice in Marshalltown, Iowa. She was 93 years old. Dorothy was preceded in death by her parents; her husband, Robert; a daughter, Michelle, in infancy; a son, Tracy; her brothers, Bob, Kenneth, Jack and Bill; and her sister, Betty Swihart.
Those left to honor Dorothy's memory include her sons, Randy (Doris) Johnson, Rick (Paula) Johnson, Tim (Vicki) Johnson; her ten grandchildren; her twenty-two great grandchildren; her five great-great grandchildren; her brother, Richard; a sister-in-law, Betty Allfree and many nieces and nephews.
Funeral services will be 1:30 p.m., Saturday, October 30, 2021, at the Pence ~ Reese Funeral Home in Newton. A Facebook Live Broadcast will begin at 1:30 p.m. on the Pence ~ Reese Funeral Home & Cremation Services Facebook page. The family will greet friends from 12:30 p.m. until service time on Saturday. Memorials may be designated to Pleasantview United Methodist Church.