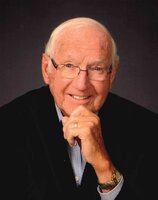 Edwin Dean "Ed" Van Zee
Edwin "Ed" Dean Van Zee, the son of Engel and Dena (Breukelman) Van Zee, was born July 10, 1935, in New Holland, South Dakota. He graduated from high school in Platte, South Dakota.
On July 8, 1955, Ed was united in marriage with Adrena "Andi" Meyerink at the Christian Reformed Church in Platte, South Dakota. In his early years, Ed worked for the railroad in South Dakota. After moving to Newton, Ed put his construction expertise to work. He built and sold several homes in Newton. Ed worked for the Vernon Company for many years and retired as an office manager. Ed loved being outside. He enjoyed fishing, golfing, and boating. He devoted his life to his family. He coached his boys in Little League and Babe Ruth, and always had time for a catch. He was a lifelong Chicago White Sox fan and always enjoyed watching and playing baseball, even playing into his 60's. Ed was a member of the Newton Christian Reformed Church.
Ed died on Tuesday, September 7, 2021, at MercyOne Newton Medical Center. He was 86 years old. Ed was preceded in death by his parents; his wife Adrena on January 10, 2021; his son Eric; his brothers, John, Herman, Raymond, LeRoy, Virgil, and Riley; his sisters, Jeanette Vander Heiden, Dorothy Van Arkel, Gertrude Slings.
Those left to honor Ed's memory include his sons, Cary Van Zee and Brad (Candy) Van Zee; a daughter-in-law, Colleen Van Zee; many step grandchildren and step great grandchildren; several sisters, in, law; and many nieces, nephews and cousins.
Funeral services will be held at 11:00 a.m., Saturday, September 11, 2021, at the Newton Christian Reformed Church. A Facebook Live Broadcast will begin at 11:00 a.m. on the Pence Reese Funeral Home and Cremation Services Facebook page. The family will greet friends from 10:00 a.m. until service time at the church. Memorials may be designated to the Newton Christian School or the Newton Christian Reformed Church and may be left at the church or at Pence ~ Reese Funeral Home.