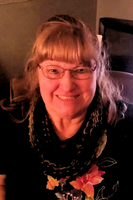 Marjorie Marie "Margie" Novak
Marjorie Marie Novak, the daughter of Anton Adam and Mabel Irma (Long) Novak, was born July 2, 1950 in West Point, Nebraska.
Margie worked in production at Firestone in Des Moines, Iowa. Following retirement, Margie work security at Prairie Meadows in Altoona and as an in-home health care worker. She loved to read books and sit outside in her rocking chair. She also enjoyed feeding the birds and squirrels.
Margie died on Sunday, August 22, 2021, at Unity Point Iowa Methodist in Des Moines, Iowa. She was 71 years old. Margie was preceded in death by her parents and her siblings, Goldie, Wayne, Norma, Jewell, Junior, Ronald and Rolland.
Those left to honor Margie's memory include her daughter, Brittany Novak; her brother, Vernon; her sisters, Pearl and Sharon and many nieces and nephews.