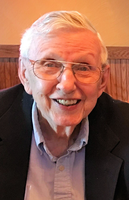 Eugene John "Krys" Krystopolski
Eugene (Krys) John Krystopolski, 91, the son of John and Anna (Sosna) Krystopolski, was born November 5, 1929, in Shenandoah, Pennsylvania. He graduated high school and later graduated from the University of Omaha, with a degree in Engineering. Krys had served his country as a Staff Sgt. with the US Air Force, 1948-1952. He moved from Omaha to Newton in 1957. Krys was employed by the Maytag Company, as a Methods Engineer. He retired in 1993, after 36 plus years of service.
On August 1, 1953, Krys was united in marriage with Betty Haniszewski in Omaha.
He devoted his life to his family and friends and was a member of the Maytag Management Club, Sacred Heart Catholic Church and the Knights of Columbus. He enjoyed his family.
Krys passed away on Saturday morning, March 27, 2021, at his home. He was preceded in death by his parents and a brother George Krystopolski. Pence ~ Reese Funeral Home in Newton, has been entrusted with the arrangements. Memorials are being designated to the Sacred Heart Catholic Church.
Those left to honor Krys' memory include his wife Betty; his daughters: Vicki (Brian) Vogt of Newton and Paula Krystopolski (Greg Chiropolos) of Chicago; his grandchildren: Jason (Dawn) Garrett, Brianne (Ryan) Harmison and Justin (Jessie) Garrett; his six great-grandchildren and two great-great grandchildren; and his many good neighbors and friends.
A Facebook Broadcast of the Funeral Mass for Krys will be held on the Pence ~ Reese Funeral Home and Cremation Services Facebook page. With a time of remembrance, celebration and a Memorial Mass held 10:30 a.m., Wednesday, March 31, 2021, at Sacred Heart Catholic Church in Newton. {Due to state and federal guidance on gatherings, due to the COVID-19 pandemic, facemasks are encouraged.}