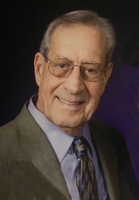 Russel G. Norcross
Russel G. Norcross, the son of Loyl Dean and Selma Maxine (Harris) Norcross, was born May 8, 1931 in Grant, Iowa. Russ graduated from Corning, Iowa high School with the class of 1948. He served his country in the United States Army, serving in Germany, during the Korean War, from 1953-1955.
On November 17, 1956, Russ was united in marriage with Gail Elizabeth Palm in Van Nuys, California. He worked in Sales at International Harvester and then for seventeen years at Axtell Ford in Newton, Iowa. Gail would precede Russ in death. They were married 53 years.
On December 6, 2009, Russ was united in marriage with Kay Snook in Newton, Iowa. Russ loved people and could always find someone to visit with no matter where he was. He enjoyed coffee time with the guys and sharing stories with everyone. Russ always enjoyed good food and dessert was his favorite food group. He was a collector of die cast cars and tanks. Russ was a man of prayer who always looked to God for His love and mercy. Russ loved his family more than any possession in this world and he made sure that each one knew that they were loved. Russ formerly attended Community Heights Alliance Church and was currently attending Christian Life Church. He was also a member of the American Legion, Newton Post#111.
Russ died on Sunday, March 7, 2021, at MercyOne Newton Medical Center in Newton, Iowa. He was 89 years old. Russ was preceded in death by his parents; his wife, Gail on March 15, 2009; his son Larry, on June 27, 2009; and his brother, Gary Lynn Norcross in 2003.
Those left to honor Russ' memory include his wife, Kay; his daughter, Bette (David) Wappner; his daughter-in-law, Tammy Norcross (Chuck) Reitzler; his six grandchildren and three great grandchildren; and Kay's family, Lynn Patterson (Dennis Dittmer), Curt (Missy) Hodges, Kendra (Eric) Simpson; six grandchildren and nine great grandchildren.; and his nephew, Dan (Lori) Norcross.
Funeral services will be held at 11:00 a.m., Friday, March 12, 2021, at the Pence Reese Funeral Home in Newton. Facemasks are required and Social Distancing will be practiced. A Facebook Live Broadcast will begin at 11:00 a.m. on the Pence Reese Funeral Home & Cremation Services Facebook page. Family will greet friends from 10:00 a.m. until service time on Friday at the funeral home. Memorials may be designated to the Christian Life Church; the American Legion or the American Legion Veteran Assistance Fund and may be left at the funeral home.