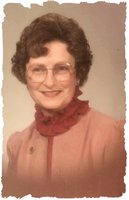 Margaret Amelia "Peggy" Dowling
Margaret A. and Robert N. Dowling
Margaret Amelia "Peggy" Meyer Dowling, 94, passed away on Thursday, December 27, 2018, at her home at Park Centre in Newton, with her loving husband, Robert Nelson Dowling, 97, passing away two days later, on Saturday morning, December 29, 2018, at Skiff Medical Centre in Newton.
A time of remembrance and celebration of life for them 1:30 p.m., Monday, December 31, 2018, in the Garden Room at Park Centre, with a coffee time to follow. The Pence ~ Reese Funeral Home in Newton, are entrusted with the arrangements. Gathering with family and friends 12:30 p.m. till 1:30 p.m., Monday, in the Garden Room. Burial will be in the Iowa Veteran's Cemetery in Van Meter at a later date. In lieu of flowers memorials may be designated to Peggy and Robert's family.
Margaret "Peggy", the daughter of William A. Meyer and Fern Wiley-Meyer, was born August 25, 1924, in Fayette, Missouri. She was a graduate of the Fort Madison, Iowa High School, Class of 1942, and Midland Radio and Television School of Kansas City, MO, in 1943. She then worked for Braniff Airways in Dallas and Corpus Christi, Texas. Robert, the son of John Josef and Marne (Banks) Dowling, was born December 19, 1921, in South Amboy, New Jersey. He was a graduate of the Harold Hoffman High School in South Amboy, Class of 1939, and Rutgers University in New Brunswick, New Jersey, in 1943. He did further studies at Iowa State University and Colorado State University in Fort Collins, CO. Robert had served his country as a pilot with the US Navel Air Corp during World War II, earning the rank of Lt. Junior grade.
On September 23, 1945, Peggy and Robert were united in marriage at the First Methodist Church in Fort Madison. Following World War II, she and Robert moved to a farm near Keokuk, IA and then to Donnellson, where she worked as secretary to the school superintendent, and he worked at the Donnellson High School teaching Vocational Agriculture. In 1954, he joined the Iowa State University Extension Services, where he served as the Lee County Extension Director, for 28 years, and Peggy worked as the Office Assistant at the Lee County Extension office for twenty-six years, both retiring in 1982. Peggy was active in the Order of Rainbow for Girls in Fort Madison Assembly as a girl and later as an adult, serving on the Rainbow Board and as Mother Advisor of the Farmington Assembly, which led to being appointed Grand Deputy of the Rainbow Grand Assembly for seven years. She was a member of Beta Sigma Phi Sorority for over 65 years. One of her special joys was her membership in PEO Chapter O of Farmington, where she had served as Chaplain and after moving to Newton, she affiliated with Chapter ME.
Robert was the recipient of many distinguished honors and awards: Distinguished Service Award by the National Association of County Agricultural Agents in 1970; Association Life Member by the National Association of County Agricultural Agents; Epsilon Sigma Phi by the Alpha Mu Chapter; National Professional Extension Fraternity-Certificate of Meritorious Service; Alpha Zeta Scholastic Achievement Fraternity Key; Beresford Quaife Award for Outstanding Extension Education in the area of livestock; Iowa State Horticultural Society Award, as the First Field Agent to be so honored; United States Department of Agriculture, 30 year Service Award; the Twenty Five year Club Certificate of Membership at Iowa State University; Iowa County Agents Association President, and the Lee County Farm Bureau Service to Agriculture Award in 2008. He was a member or past member of: George Washington Lodge, AF&AM in Donnellson, where he was Past Master and 60 plus Year Member of Damascus Commandery and 60 plus year member in Keokuk; Gate City Chapter, Royal Arch Masons-60 plus year member in Keokuk; Gillaspey-Moodie American Legion-Past Commander and 60 plus year member in Donnellson, Honorary FFA Membership, Donnellson High School in 1954. Both Peggy and Robert were Honorary Lee County 4-H members, members of the Iowa Retired School Personnel Association in Lee County, Donnellson Garden Club, Artaban Chapter 60 plus year members Order of Eastern Star in Donnellson, where she served as Worthy Matron, four terms, two terms as a Grand Chapter Committee Member and past member of the Past Matrons of Order of Eastern Star, receiving a two-year commission as Grand Representative of North Carolina. Both were members of St. John's Episcopal Church in Keokuk, where Peggy served as Clerk of the Vestry for several years on the Altar Guild and two terms as President of the ECW, and Robert serving on the Vestry, and both as Docents for the Church Tours. Margaret and Robert had spent many hours working successfully to have the church named to the National Register of Historic Places.
Those surviving Peggy and Robert include their daughter Christina "Tina" (Chuck) Jolicoeur of Polo, IL; son Kevin (Martha) Dowling of Newton; grandchildren: Jennifer and Courtney Strange; Keegan, Shannon, Robert and Elaine Dowling; a great-grandson Kamden Dowling; a great-granddaughter Abigail Kain; and many good neighbors and friends. They were preceded in death by their parents; Robert's brothers: Carl and John Dowling; and Robert's sister Jean Poetsch.