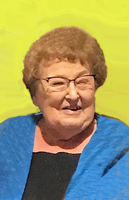 Anna Mae Nikkel
Anna Mae Nikkel, the daughter of Arie F. and Jennie (Huyser) De Cook, was born August 21, 1925. She graduated from the Sully High School with the class of 1943. On April 8, 1945, she was united in marriage with James H. Nikkel at the Sully Christian Reformed Church.
Anna Mae had worked many years cleaning houses and as a local Avon lady. She enjoyed cooking, baking and spending time with her family, especially her grandchildren and great grandchildren. She always looked forward to Sunday morning coffee time and playing cards with friends. She was a longtime member of the Sully Christian Reformed Church.
Anna Mae died on her birthday, August 21, 2018 at her home in Sully. She was 93 years old. She was preceded in death by her parents; her husband, James; a son, Kern; a great grandson, Rex Allen; her two brothers and their spouses, Walton and Nellie Fae De Cook and Armand and Frances De Cook; her sister and her spouse, Gertrude and Pete Goodyk; her sisters-in-law and brothers-in-law: Jennie and John Van Maanen, Cornelia and Fred Loynachan, Edward Nikkel, Wilbur and Louise Nikkel, Robert Zylstra, and Jan Nikkel.
Those left to honor Anna Mae's memory include her daughter, Brenda (Darrel) Van Der Kamp of Ankeny, IA; her daughter-in-law, Sandy (Mrs. Kern) Nikkel of Grinnell, IA; and her son, Scott (Vicki) Nikkel of Sully, IA; her grandchildren, Jana Van Der Kamp, Brent (Stephanie) Van Der Kamp, Alex (Danielle) Van Der Kamp, Ryan Nikkel, Rebecca (Jon) Puls, Jacob (Heather) Nikkel, Desiree (Tim) Hardeman, David (Monica) Nikkel, Trevor (Jerri) Nikkel; her great grandchildren: Maddison, Nick, Lynne, Merritt, Jordyn, Bode , Addy, Natalie, Samuel, Brayden, Brooke, Bryson, Bristol, Katelyn, Alivia, Colton, Bella; her sisters-in-law and brothers-in-law: Harriet Zylstra, Gysbert and Sylvia Menninga, Lucille Nikkel, JoAnn Nikkel, Bruce and Joyce Nikkel and Nelson and Norma Nikkel.
Funeral services will be held at 10:30 a.m. Saturday, August 25, 2018 at the Sully Christian Reformed Church. The family will greet friends Friday evening from 5:00 – 7:00 p.m. at the Pence ~ Reese Funeral Home in Newton. Memorials may be designated to the Back To God Hour or Pavlos and Meggan Vasileiadis Commission to Every Nation and may be left at the church or at Pence ~ Reese Funeral Home.