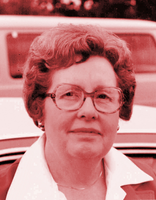 Wilma L Van Baren
Wilma L. Van Baren
Wilma went home to be with her Savior on March 24, 2018, at Maryville Living Center in Maryville, Missouri.
A private time of remembrance and celebration of life will be Thursday, March 29, 2018, at the Newton Union Cemetery. The Pence ~ Reese Funeral Home in Newton, have been entrusted with the arrangements. Please, in lieu of flowers and as an expression of sympathy, memorials may be designated to Wilma's family, and left at the Pence~Reese Funeral Home.
Wilma L. Van Baren, 98, was born January 13, 1920, in Newton. The daughter of Rev. Henry Van Dyke and Wilhelmina F. (Van Dam) Van Dyke, she graduated from the Newton Senior High School and was a Life Member of Beta Sigma PHI.
On June 7, 1941, Wilma was united in marriage with James Arnold Van Baren in Newton. She devoted her life to her family and friends, and had lived in St. Louis, MO; Albia, IA; Ewart, IA; Burchard, NE; Heber Springs, AR; West Des Moines; Johnston, IA and Newton, prior to moving to Maryville, MO to be near her son James.
Wilma is survived by her son and daughter-in-law James Alan and Jeanette Van Baren; her sister Frances J .Riggs and many good neighbors and friends.
She was preceded in death by her parents; her loving husband Arnold on May 5, 1998; and her brothers: Martin J. Van Dyke and Lester R. Van Dyke.