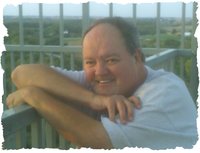 Danny Joe Richardson
Danny Joe Richardson
A Celebration of Life-Memorial Service for Danny Joe Richardson will be 11 a.m., Saturday, March 10th, at St Mark's Episcopal Church, 3120 East 24th Street, Des Moines Iowa, with a luncheon following the service.
Dan, 64, moved into his Forever Home on February 18, 2018, at The Kavanagh House in Des Moines. There in Heaven waiting for him were, his parents Betty Joe and Dave Richardson; his Sister Penny; Grandparents, Aunts and Uncles, a Niece Heather and a Nephew Tony. And Cousins.
Dan is survived by his partner of many years, Rick; his Sister Sheryl Dowd of Des Moines; his Aunt Irvene and Uncle Jerry of California; many Nephews and Nieces, Great Nephews and Great Nieces, and Great-Great Nephews and Great-Great Nieces; Cousins; and his many Friends from School, Jobs, Church, and Canasta, who he always considered Family.
Before he became disabled, Dan worked at the Fiesta Cantina, many years ago. He always made his smothered burrito's. He was a Data Entry Specialist, and also did 10 Key Data Entry. The stories told of his speed with the key board will live on. He had a head with numbers and words. And very proud of his penmanship. Dan was a Graduate of South East Polk. Class of 1973. Many of his Class mates still kept in touch and had a lifelong friendship. Also meeting and seeing each other during the Class reunions. He was a true SE Polk Fan, loved the Iowa Hawkeyes, football among the other sports. Dan loved card games, he was a long time member of Club Pogo, and played Canasta with: wwwmyleague.com/believers2017/. He enjoyed their chats and many phone calls. They became very close to him and a big part of his life. Most of all, Dan loved the Lord, and was a member of Word Of God Church, till they closed a few years ago. Dan was a Prayer warrior and shared his faith with others. He enjoyed christian music by: Vestal Goodman, Lynda Randle, Joey and Rory, The Gathers, were among his favorites. He sang at his church and had a wonderful voice. His forgiving attitude and love for people, his friends and his family: made Dan One Of A Kind. Cats knew they had a special place in his heart, as well as his Choc Lab. To those he has loved throughout his Earthly Journey and has left behind, he will be missed by many, but will never be forgotten. He will be with us in spirit always, and be looking out for us all, cheering us on in our walk with our Lord and Savior.