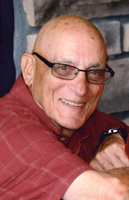 Dwain Eldon VanRoekel
Dwain Eldon Van Roekel, the son of Henry and Kathern (Wohlwend) Van Roekel, was born July 19, 1926 in Newton, Iowa. He graduated from Monroe Senior High School and went on to attend Drake University. Dwain served his country in the United States Army from 1944-1946.
On June 29, 1947, Dwain was united in marriage with Phyllis Jean Stewart of Unionville, Missouri. Dwain joined the Maytag Company in Newton, Iowa. He retired in 1990 after 44 years of service. Dwain was well known for his story telling and woodworking. He also built two homes, the second in which his family was raised. Dwain was a member of the Congregational United Church of Christ and the Newton Elks Lodge #1270. He enjoyed his years at the Elks serving in all the chair offices including Exalted Ruler twice.
Dwain died on Thursday, April 12, 2018 at Skiff Medical Center in Newton, Iowa. He was 91 years old. Those left to honor Dwain's memory include his wife of over 70 years, Phyllis Van Roekel of Newton; his daughter, Patti (Steve) Davis of Mitchellville, Iowa; his son, Eric (Maria Pregon) Van Roekel of Apple Valley, California; his granddaughters, Staci (Phillip) Cox of Ankeny, Iowa and Alison (Eric) Stewart Runnells, Iowa; his grandson, Chad Van Roekel of West Covina, California; his great granddaughters, Gabbi and Gemma Stewart and his great grandsons, Xander and Zyler Cox.
A memorial service will be held at 7:00 p.m. Tuesday, April 17, 2018 at the Pence Funeral Home in Newton. The family will greet friends from 5:00 until 7:00 p.m. Tuesday evening at the funeral home. Memorials may be designated to the Jasper County Animal Rescue League or the Elks Lodge #1270 Scholarship Fund and may be left at the funeral home.