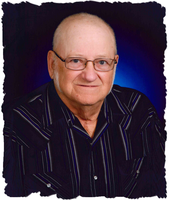 Ora Issac Seals
Ora I. Seals
Ora went home to be with his Savior on Saturday evening, April 7, 2018, at Skiff Medical Center in Newton.
Ora Issac Seals, 81, the son of William Franklin and Loucrita (Robinson) Seals, was born August 2, 1936, near Centerville, Iowa. He had attended Mystic Community Schools.
On June 1, 1956, Ora and Amanda Louise Cupples were united in marriage in Newton. To this union four children were born, Ronald, Debora, Jeffrey and Steven. Moving to Newton in 1951, Ora was employed by the Maytag Company, as a production worker. He retiring on May 28, 1992, after 24.6 years of service. He devoted his life to his family, and will be greatly missed. Ora was a member of Cornerstone Bible Church, and enjoyed fishing, hunting, flea markets and his grandchildren.
Ora is survived by his wife Louise; his daughter Debora Seals of Newton; his sons: Ronald Seals, Jeffrey (Andrea) Seals and Steven Seals, all of Newton; his ten grandchildren and twelve great-grandchildren; his brothers and sisters: Dwight Seals, James Seals, William Seals, Iris Smith and Faith Engle; step-sisters: Carol Wages and Jean Jones; his many nieces and nephews; and many good neighbors and friends.
He was preceded in death by his parents; brothers: Robert Seals and Cela Seals; a sister Shirley Bills; and a step-brother Robert Conger.
A time of remembrance and celebration of life will be 11:30 a.m., Wednesday, April 11, 2018, at the Pence ~ Reese Funeral Home in Newton, with a visitation one hour prior to the services and at a lunch following. Burial will be in Palo Alto cemetery in rural Newton. Please, in lieu of flowers and as an expression of sympathy, memorials may be designated to Ora's family or to a charity of your choosing.