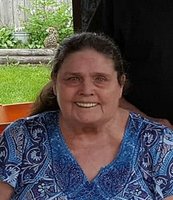 Mary Kathleen Sholley
Mary Kathleen "Kathy" Sholley, the daughter of William L. and Theresa (McNeer) Clark, was born February 7, 1950 in Newton, Iowa. Kathy was graduated from the Newton Senior High School with the Class of 1968.
Kathy worked as a clerical secretary/data entry and had lived in Newton, DeSoto and Perry. She loved being around her family. She enjoyed working on the computer, creating handcrafts and collected figurines, especially Angels.
Kathy died on March 31, 2018 at Mercy Medical Center in Des Moines, Iowa. She was preceded in death by her father William L. Clark Sr. and her son Christopher L. Jones.
Those left to honor Kathy's memory include her son Curtis (Amy) Jones of Baxter, Iowa, daughter Michelle (Stephanie Cue) Jones of Des Moines, Iowa, mother Theresa Clark of Newton, Iowa, companion Stephen Emerson of Perry, Iowa, 12 grandchildren Aarron Jones, Lance Jones, Samantha Jones, DJ Schub, Michael Draman, Jason Draman, Nicole Draman, Amelia Jones, Elizabeth Jones, Curtis Jones Jr., Hannah Jones and Logan Jones, 2 great-grandchildren Adyson Jones and Ezra Sprague, brothers William "Bill" (Linette) Clark Jr. of Prairie City, Iowa, Danny (Tami) Clark of Newton, Iowa, Tim (Amy) Clark of Newton, Iowa, sisters Judy (Rick) Ogle of Reinbeck, Iowa and Barbara (Mark) Warren of Altoona, Iowa.
Funeral services will be held at 11:30 a.m. Wednesday, April 4, 2018 at the Pence~Reese Funeral Home in Newton, Iowa. The family will greet friends from 10:30 a.m. until time of service. In lieu of flowers, memorial contributions may be directed to the family.