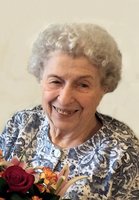 Marcia Harrington
Marcia Harrington, daughter of Ralph Bruce and Adda (Culver) Livingston, was born October 9, 1921 on the family farm near Monroe, Iowa. She moved to Newton in 1934 with her family and graduated from Newton High School in 1939. Marcia went on to attend Simpson College and received her teaching certificate. She taught school in Ankeny, Iowa from 1941-1946. On June 5, 1942 Marcia was united in marriage with Leo C. Harrington in her parents' home in Newton, Iowa. Marcia raised her young family, then went back to school and received her BA in elementary education from Drake University in 1968. She worked as an elementary teacher in Newton, Iowa from 1963-1983, teaching at both Lincoln and Woodrow Willson schools. Marcia was a caring and loving mother as well as teacher. She remembered fondly many of her former students and hoped life had treated them well.
Marcia was a longtime member of the United Presbyterian Church where she served as Sunday School teacher, Deacon, and was very active with the United Presbyterian Women. Marcia was a Blue Bird leader, a 4-H leader as well as a Cub Scout den mother. She was also a member of P.E.O., Chapter ME, the Jasper County Retired School Personnel, Skiff Hospital Auxiliary, Jasper County Historical Society, and the 20th Century Club. She was a resident of Newton until November 2017. She had a deep affection for Newton and treasured her Newton friends.
Marcia died on March 30, 2018 at Mill Pond Care Facility in Ankeny, Iowa. She was 96 years old. Marcia was preceded in death by her husband of 75 years, Leo, by her parents, her brothers, Bruce Livingston, and Burtnett Livingston, her sister -in-laws, Louise Harrington, Lois Livingston, and Junella Livingston, and her brother-in-law Charles Harrington.
Marcia was loved and will be greatly missed by her sons, Charles (Jo Cox) Harrington, John (Cate) Harrington, her daughter, Marcia (Rich) Flaugh, her six grandchildren Karen (Jim) Emmert, John (Jennifer) Flaugh, Rebecca (Eric) Morris, Joseph Harrington, Andrew (Alana) Harrington, and Ellen Harrington, her ten great grandchildren, her sister-in-law Lois Harrington, and many nieces and nephews.
Memorial services will be held at 10am, Saturday, April 28th at the United Presbyterian Church in Newton, Iowa. The family will greet friends following the service and during lunch. In lieu of flowers, memorials may be designated to the United Presbyterian Church and may be left at the church or at Pence-Reese Funeral Home.