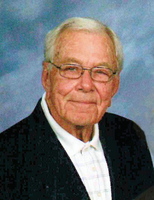 Robert Gerald Harding
Robert G. Harding
Robert went home to be with his Savior on Thursday morning, March 29, 2018, at his home in rural Newton.
Robert Gerald Harding, 89, was born March 5, 1929, in Newton, the son of Paul and Ann (Egeland) Harding. He was a graduate of Newton Senior High School, Class of 1947. Robert had served his country with the U.S. Navy as an Electrician's Mate Third Class in Guam, during the Korean Conflict.
On February 7, 1953, Robert was united in marriage with Joan Kupka at St. Patrick's Catholic Church in Tama. Robert was employed as a Electrical Technician for Maytag, retiring after 33 years. He devoted his life to his family, and was a gentile and sweet man. He was a member of Sacred Heart Catholic Church, Knights of Columbus, Elks Club, a board member of the catholic cemetery board. He raised horses, and enjoyed gardening, fishing, hunting, woodworking, vacating out West, golf and working at the golf course after retirement.
Robert is survived by his wife of 65 years, Joan; his sons and daughters-in-law: Michael and Debra Harding of Marinette, WI and Patrick and Sherri Harding of West Des Moines; his grandchildren: Jared Harding, Chelsea Selin, Jill Harding and Jason Welder; and many good neighbors and friends.
He was preceded in death by his parents; two sons and a daughter in infancy; and a brother Russell.
A Funeral Mass for Robert will be 10:30 a.m., Tuesday, April 3, 2018, at Sacred Heart Catholic Church in Newton, with a visitation one hour prior to the services. Father William Reynolds and Deacon Dan Goetz officiating. Burial will be in the Sacred Heart Catholic Cemetery. The Pence ~ Reese Funeral Home in Newton, have been entrusted with the arrangements. In lieu of flowers, memorials may be left to Robert's family, in his name or a charity of your choosing.