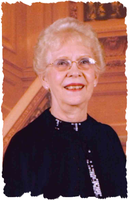 Virginia Mae Terris
Virginia M. Terris
Virginia went home to be with her Savior on February 18, 2018, 2018, at Accura Healthcare of Newton East.
A time of remembrance and celebration of life will be 11:00 a.m., Thursday, February 22, 2018, at the Newton Church of the Way. Visitation will be at the church, one hour prior to the services. The Pence ~ Reese Funeral Home in Newton, have been entrusted with the arrangements. Please, in lieu of flowers and as an expression of sympathy, memorials may be designated to Virginia's family or to the Church of the Way, in her name.
Virginia Mae Terris, 84, was born January 1, 1934, near Reasnor, the daughter of Wallace Paul and Vera Katherine (Herwehe) Hancock. She was raised by her grandparents: Mable and Jacob Herwehe, and attended country school, graduating from the Newton Senior High School, Class of 1952.
In 1956, Virginia was united in marriage with Robert Lawrence Terris. Virginia was employed at Younkers and later at Walmart, in sales. She devoted her life to her family, and was a member of the Newton Church of the Way, and will be greatly missed
Virginia is survived by her two daughters and a son: Lisa Mae Jensen, Melissa Ann Davila and Robert Floyd (Maria) Terris; her eight grandchildren: Joshua, Robert, Tanya, Christie, Joseph, Cassandra, Bryan and Lindsay; her great-granddaughters, Kieran and Caeley; a great grandson, Dylan; her brothers: Larry Ray (Jean) Hancock and Paul (Becky) Hancock; a half-brother Leslie Hancock; and many good neighbors and friends.
She was preceded in death by her grandparents; parents, her daughter Patricia Lynn; and four half-brothers.