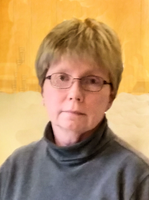 Tamie Sue McDowell
Tamie S. McDowell
Tamie passed away Sunday morning, February 11, 2018, at the Taylor Hospice House in Des Moines.
A Private time of remembrance and celebration of life will be held at a later date. The Pence ~ Reese Funeral Home in Newton, have been entrusted with the arrangements. Please, in lieu of flowers, and as an expression of sympathy, memorials may be designated to Tamie's family, in her name.
Tamie Sue McDowell, 60, was born August 26, 1957, in Jefferson, IA, the daughter of Larry and Marian (Johns) Gustoff. She was a high school graduate, and received an Associate Degree in Business from AIB in Des Moines. Tamie was employed for several years in the business office by Axtell Ford in Newton, and later in the finance department for the State of Iowa Department of Safety, with the Highway Patrol.
Tamie enjoyed her family, friends, reading and her dogs, and will be greatly missed.
Tamie is survived by her daughter Sandy Harlow; her son Bobby Joe McDowell; a special grandson Jaxson Harlow; her mother Marian Gustoff; her nine brothers and sisters, including Johnna Gustoff; her significant other Jimmy D. Filson; her nieces and nephews; and many good neighbors and friends.
She was preceded in death by her father Larry; a brother Dennis Fetters; and her nephew Lyndon Lawrence.