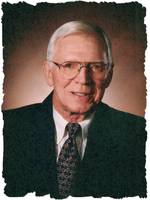 Arthur Swan Anderson
Arthur S. Anderson
Arthur went home to be with his Savior on Tuesday evening, February 6, 2018, at Skiff Medical Center in Newton.
A time of remembrance and celebration of life will be 11:30 a.m., Saturday, February 17, 2018, at the Pence - Reese Funeral Home in Newton. Visitation will be one hour prior to the services. Please, in lieu of flowers and as an expression of sympathy, memorials may be designated to Arthur's family in his name.
Arthur Swan Anderson, 95, was born July 1, 1922, in Freeport, Illinois, son of Arthur E. and Thelma Mae (Waldecker) Anderson. He was a high school graduate and received a Bachelor's of Arts Degree in Economics from Cornell College in Mount Vernon, IA. Arthur had served his country with the United States Navy, during World War II.
On June 27, 1948, Arthur and Barbara Thayer were united in marriage in Savana, Illinois. Arthur was employed by the Maytag Company in Newton, retiring in 1987 after 40 ½ years of service, as a manager. Art enjoyed his family, and was a member of the Congregational United Church of Christ in Newton. He was an avid sportsman and fan, as well as an outdoorsman. He held numerous professional/managerial positions. Serving on various boards and committees. These included responsibilities related accounting and managing funds as a treasurer. He remained actively involved in supporting community and church as well as volunteer services. His contributions in these areas, as well as supporting cultural events, music associations, choir and community theater, will be missed. He maintained a steadfast commitment to family and friends, and a continued dedication to helping others. He was always willing to go out of his way to help a stranger or person in need. He strongly believed in the basic goodness of humanity and never gave up on that principle. He served as a model of goodwill and faith, while spreading the values of honesty and integrity – he served to instill a strong work ethic in all of his dealings with others.
Art is survived by his sons: Robert "Bob"(Dr. Marcie) Anderson in Omaha, NE, James (Heidi) Anderson and John Anderson; both of Phoenix, AZ; his five grandchildren and six great-grandchildren; his brothers: Robert (Delores) Anderson of Freeport and James (Pat) Anderson of Davenport, IA; and a sister-in-law Jane Thayer.
He was preceded in death by his parents; his wife Barbara on October 28, 2012; his son Tom Anderson; a sister & brother-in-law: Jean & Art Wurtzel; and a brother-in-law Henry Thayer and a sister-in-law, Mary Jane Motlow.