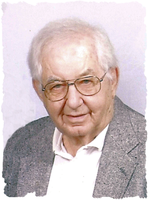 Earl Hawkins
Earl Hawkins Jr., 91, passed away Friday, January 26, 2018, at Skiff Medical Center in Newton.
A Celebration of Life for Earl will be held 1:00 p.m., Thursday, February 1, 2018, at the Pence – Reese Funeral Home in Newton, conducted by Pastor Gary Marzolf. A visitation with the family was one hour prior to the services at the funeral home, and with a Fellowship time at the First United Methodist Church, following the services. In lieu of flowers memorial may be made given to the Salvation Army or First United Methodist Church in Newton, in his name, and left at the funeral home. Interment will be in the Iowa Veteran's Cemetery in Van Meter, IA.
Earl Hawkins, Jr., the son of Earl V. and Icle B. (Miller) Hawkins, was born January 12, 1927, near Monroe, and was a graduate of the Monroe High School. Earl had served his country with the US Navy, during World War II. A longtime resident of the Jasper County area, he had lived in Colfax, Monroe, Lambs Grove and Newton.
On August 31, 1947, Earl was united in marriage with Wilma Louise Miller, in the First United Methodist Church in Monroe. He and Wilma co-owned and operated Insurance Agencies in the Newton area, for many years. He and Wilma resided in Bella Vista, AR, 1997 – 2013, prior to moving back to Newton. Earl devoted his life to his family and friends. He was a member of the First United Methodist Church, Elks Lodge, Iowa Jaycee, Newton Country Club, Jelly Bellies Golf Group, Independent Insurance Agency Associations of Jasper County and America, and the American Legion. He especially enjoyed playing golf, with all his Jelly Bellies and auto racing fan.
Those left to honor Earl's memory include his wife of 70 years Wilma; his daughters: Vicki Sue (Tim) Fogle and Sandra L. Smith; his five grandchildren and eight great-grandchildren; a great-great granddaughter; four step grandchildren; four step great-great grandchildren; and his many friends.
Earl was preceded in death by his parents; a brother David; a sister Gwen Churchhill; a son-in-law; a sister-in-law Sarah (Hollingsworth) Hawkins and a brother-in-law Harold Churchill.