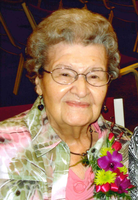 Geneva Hubers Van Zee
Geneva Van Zee, the daughter of Herman and Gertie (Van Zanten) Hubers, was born June 3, 1922 in New Holland, South Dakota. She attended school in New Holland and Corsica. On October 22, 1941, Geneva was united in marriage with John E. Van Zee. Geneva worked with John on the farm and raised and cared for her family. They moved to the Newton area in November of 1961. Geneva was a member of the Newton Christian Reformed Church.
Geneva died on Friday, January 26, 2018, at the Cottages in Pella, Iowa. She was 95 years old. Geneva was preceded in death by her parents; her husband, John on August 10, 2009; a daughter, Janice; a granddaughter, Kimberly Van Zee in infancy; great grandchildren, Taylor and Tyler Jansen, both in infancy; and her brother, Marvin.
Those left to honor Geneva's memory include her sons, Elwood (Connie) Van Zee of Newton, IA, Kenneth (Gloria) Van Zee of Pella, IA, Myron (Laura) Van Zee of Pella, IA; her daughters, Gloria (Rev. Dale) Slings of Kalamazoo, MI, Virginia (Darrell) Vermeer of Sioux Center, IA, Joan (David) Jansen of Ankeny, IA; her son-in-law, Ronald Vande Voort; her twenty-four grandchildren; her sixty great grandchildren; her sisters-in law and brothers-in-law, Marguerite Hubers, Mary Lou Kredit, Ed Slings, Ed and Adrena Van Zee and Pearl Van Zee.
Funeral services will be held at 10:30 a.m. Tuesday, January 30, 2018 at the Newton Christian Reformed Church. The family will greet friends from 6:00 p.m. until 8:00 p.m. Monday evening at the Newton Christian Reformed Church. Memorials may be designated to Resonate Global Missions or to Bethany Christian Services and may be left at the church or at Pence ~ Reese Funeral Home.