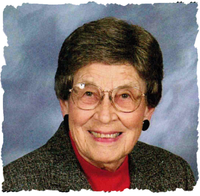 Mary Helen Marnell
Mary H. Marnell
Mary went home to be with her Savior on January 25, 2018, in the care of Newton Village Health Care, under Iowa River Hospice.
A Funeral Mass for Mary will be 11:00 a.m., Wednesday, January 31, 2018, at the Sacred Heart Catholic Church in Newton, Iowa, with a visitation one hour prior to the services. The Pence ~ Reese Funeral Home in Newton, have been entrusted with the arrangements. In lieu of flowers, memorials may be left to Sacred Heart Catholic Church or Iowa River Hospice in Mary's name or a charity of your choosing.
Mary Helen Marnell, 91, was born January 28, 1926, in Stratton, Colorado, the daughter of Joseph Michael and Clara Anna (Weibel) Knochel. She was a high school graduate in Colorado.
On August 8, 1949, Mary was united in marriage with Leonard Marnell in Stratton. She and Leonard lived in Chariton, Iowa for 23 years, and Mary worked for the Hy-Vee Corporate office there, as an Accountant. She retired in 1989, from Hy-Vee, after 22 years of service, and moved to the Newton area in 1990.
She was a member of the Sacred Heart Catholic Church and will be greatly missed. She enjoyed gardening, canning her produce, fishing, playing cards, and was a strong willed woman.
Mary is survived by her daughters and sons-in-law: Betty & Mark Thompson of Knoxville, Donna & Gordon Baker of Newton and LuAnn & Greg Lucas of Newton; her four grandchildren and five great-grandchildren; her sisters: Marcella (Paul) Schaefer of Lacona and Betty (Harold) Wachter of Milo; a brother-in-law Herb Ripperger of Indianola; numerous nieces and nephews; and many good neighbors and friends.
She was preceded in death by her parents, her husband Leonard in 2003; a beloved grandson Korey Baker; a sister Ida Ripperger; her two brothers: one in infancy and Ferdie Knochel.
Online condolences may be left for the family at: www.pencefh.com.