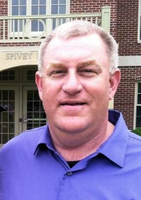 Daniel David Cross
Daniel David Cross, the son of Donald and Janice (Jansen) Cross, was born July 16, 1966 in Newton, Iowa. He graduated from the Lynnville Sully Senior High School with the class of 1984 and from Iowa State University in 1989.
On November 22, 1991, Dan was united in marriage with Mary Carol Hostert in Manchester, Iowa. To this union three children were born Caitlin, Dylan and Garret. Dan had lived in Ames, Ryan, Manchester, Sully, Kellogg and Newton.
On March 21, 2015, Dan was united in marriage with Lisa (Benson) Richardson in Nashville, Tennessee. Dan had worked as General Manager for Synergy LLC. He was a member of the Lynnville Heart of Worship. He enjoyed playing his guitar and saxophone. He loved people and always enjoyed hunting, fishing, woodworking, and gardening.
Dan died on Tuesday, January 23, 2018. He was 51 years old. Dan was preceded in death by his grandparents.
Those left to honor Dan's memory include his wife, Lisa Cross of Newton; his sons, Dylan Cross and Garret Cross; his daughter, Caitlin Cross; his step-son, Kyle Richardson; his step-daughter, Kayla (Kenton) Dunsbergen; his parents, Donald and Janice Cross; and his sister, Debbie (Jeff) Smith.
A time of remembrance and celebration of life will be held from 4:00 until 7:00 p.m. Monday, January 29th at the Pence ~ Reese Funeral Home in Newton. Funeral services will be held at 1:00 p.m. Tuesday, January 30, 2018 at the Lynnville Heart of Worship in Lynnville, Iowa.