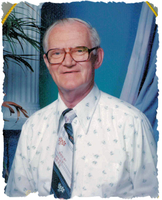 Elston Eugene "Bud" Ketels
Elston E. "Bud" Ketels
Eldora
"Bud" Ketels, formerly of the Colfax, Iowa area, passed away peacefully Tuesday afternoon, January 23, 2018, at Valley View Specialty Care Center in Eldora, where he had been a resident for several years. In lieu of flowers, and as an expression of sympathy, memorials may be designated to Wounded Warriors Project or to Bud's family, in his name.
Graveside services for Bud will be 3:00 p.m., Friday, January 26, 2018, at the Colfax Cemetery. Pence ~ Reese Funeral Home in Newton have been entrusted with the arrangements. Pastor Mark Chapman will conduct the services.
Elston Eugene "Bud" Ketels, 89, the son of William and Vema (Warwick) Ketels, was born August 15, 1928, in Poweshiek County, near Barnes City, Iowa, where he grew up. He graduated in 1945 from Barnes City High School, where he was a standout basketball and baseball player. He also helped the Barnes City Bees, the town's traveling team, to YMCA league titles of their own.
In June of 1950, Bud married Barbara Lou Brant in Colfax, Iowa. He served in the United States Marines, platoon 482, from 1951 to 1953, assigned first to basic training and telephone school in San Diego, followed by service in the air control tower at Cherry Point Marine Base in North Carolina. Upon his discharge, Bud and Barbara returned to Iowa, living in Colfax and Indianola before United Food Market brought Bud to Eldora to manage its store in 1957.
Bud became a trusted fixture in the grocery business, managing stores in Eldora, Newton and Grundy Center at various times for United, Hy-Vee, Tom and Sandy's and Family Foods. He owned and operated Bud's Royal Blue in New Providence in the late 1960s.
Over the course of his life, Bud belonged to the Eldora Methodist Church, the Eldora Volunteer Fire Department, was a Life Member of the American Legion Walter Sayer Post #1215 in Eldora, and the Eldora Chamber of Commerce. He loved working around his home. He loved to laugh and he loved music. He was a regular attendee at the Greenbelt Speedway in the 1990s, and he was a faithful fan of the Chicago Cubs. By far his chief interest and joy in life was his family, who loved him beyond measure, and the multitude of people who visited him and treasured his company and conversation. He often talked of how fortunate he was to have so many truly wonderful people in his life.
Bud is survived by his wife Barbara of Eldora; son Denton (Joan) Ketels of Eldora; daughter Rhonda Ketels of Altoona, Iowa; grandchildren Amber Dawn Simpson (Brad) Heath of Maryland, and Ryan Christopher (Kelsi) Simpson of Omaha, Nebraska; great grandchildren Andrew Heath and Jackson Heath, and Scarlett Simpson and Sadie Simpson.
He was preceded in death by his father, mother, half-brother Gerald, half-sister Dorothy and half-sister Geniveve. Bud will be very deeply missed by everyone who knew him.
Text that is to appear on web must be entered before this line)