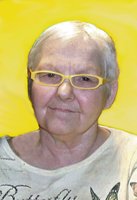 Bonnye G. Varland
Bonnye Gaye Varland, the daughter of John and Vivian (Warner) DeGreef, was born April 5, 1948 in Newton, Iowa. She graduated from the Newton Senior High School and went on to receive her Nursing Certificate from Iowa Lutheran School of Nursing and her post graduate work at the University of Texas.
Bonnye worked as a Registered Nurse for the State of Iowa and for Skiff Medical Center in Newton. She was a member of the Lutheran Church. Bonnye was a selfless mother and her greatest joy on this earth was spending time with her grandkids. Sara and the grandkids have many fond memories of trips to the candy store, exploring nature together, and numerous sleepovers. She enjoyed her flowers and butterflies, cross-stitching, crocheting and making others laugh.
Bonnye died on Tuesday, January 9, 2018 at St. Francis Manor in Grinnell, Iowa. She was 69 years old. She was preceded in death by her parents; and her brother, Jon DeGreef.
Those left to honor Bonnye's memory include her daughter, Sara (Chris) Jansen; her grandchildren, Kaitlynn, Kalley, Kaden and Kale; her sisters, Penny Rasmussen and Debbie Swihart; her brothers, Mark DeGreef and Dan DeGreef; her step-mother, Connie DeGreef and her many nieces and nephews.
Memorial services will be at 11:00 am, Saturday, January 20th at the Pence ~ Reese Funeral Home in Newton. Friends may greet the family from 9:30 am until 11:00 am before the service. Memorials may be designated to the Pregnancy Center of Central Iowa or Grinnell Regional Hospice and may be left at the funeral home.