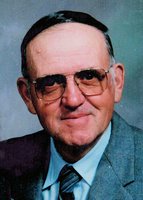 Donald Ray Van Der Hart
Donald Van Der Hart, of Newton, passed from this life on Thursday morning, December 28, 2017, at his home at Park Centre.
Donald Ray Van Der Hart, 84, was born May 13, 1933, in Prairie City, Iowa, the son of Walter and Ruth (Painter) Van Der Hart. He was a graduate of the Monroe Senior High School. He served his country during the Korean Conflict in the US Army.
Donnie farmed at the VanDerHart family farm by Monroe, for many years, alongside his brother, Francis.
On July 23, 1983, Donald was united in marriage with Marie Lavon Brown-Steenhoek, at the Little Brown Church in Nashua, IA. Donnie and Marie moved to southern Iowa to a farm near Melrose. They raised cattle and enjoyed caring for their land.
Donnie was a farmer, fisherman, hunter, cook, gardener, quilter, square dancer and traveler. He was a longtime member of the Chariton United Methodist Church and was very active in their mission programs.
Donnie was a loving husband, step-father and grandfather.
Donald is survived by his step-children: Sandra (Larry) Hartman, Marvin (Kathy) Steenhoek, Joyce (Francis) Van Der Hart and Donald (Lu Anne) Steenhoek; ten grandchildren and eighteen great-grandchildren; his sister, brothers and sisters-in-law: Evelyn Van Dusseldorp, Francis Van Der Hart, Doyle (Opal) Van Der Hart and Freda Van Der Hart; and numerous nieces, nephews and friends.
He was preceded in death by his parents, his wife Marie on December 29, 2016; a grandson Matthew Steenhoek; his step-mother Leola Van Der Hart; a brother Harold Van Der Hart; and a sister in infancy.
A time of remembrance and celebration of life will be 11:00 a.m., Tuesday, January 2, 2018 at the Pence –Reese Funeral Home in Newton, with visitation one hour prior to the services. Burial will be in Silent City Cemetery in Monroe.
In lieu of flowers, memorials may be left to the family in Donald's name: to the Parkinson's Association and Chariton United Methodist Church.